Wood Chips For Smoking Outdoors And Dust For Stove Top & Cold Smokers
The "Smokey Olive Wood" brand sustainably source wood chips for smoking outdoors on your barbecue. They also prepare wood dust for stove top smokers and cold smoking.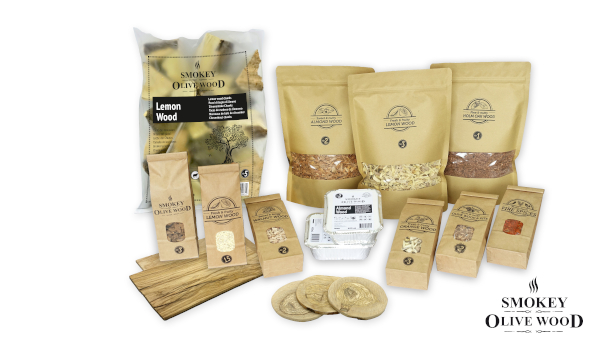 We're enthusastic supporters of the Smokey Olive Wood brand because:

They use indigenous European tree species
Their wood is a bi-product of the fruit and nut industry
They solar dry which is good for the environment

Next stop compostable packaging! We're working on this together and hope to have it very soon.
Let's face it...Here in the UK most of the wood chips for smoking are plastic bags full of American wood species such as hickory, maple & mesquite. Not only does shipping wood all the way from the USA seem environmentally wrong to us, we Europeans also know how to live fire cook, we can use our own woods and create great flavours too!
Close your eyes and think back to that open fire barbecue on a warm Mediterranean evening and...well you get where we're coming from.

Sustainable Wood Chips For Smoking
In order to provide the fruit and nuts that we eat, tree plantations need continuous rejuvenation, pruning and care. This produces high quality root, stem and branch wood which Smokey Olive Wood use for making BBQ wood chips for smoking our food.
Smokey Olive Wood work together with numerous olive, fruit and nut farmers who harvest and regenerate part of their plantations every year and this provides sufficient raw materials for their production process.
The Smokey Olive Wood production facility is surrounded by the olive yards and this naturally reduces the carbon impact of inbound transportation.
The first step is drying using the natural warmth of the sun and then they finish the process in a wood drying kiln powered by solar panels. There is however a minimal amount of power used to drive the pump that allows the heat of the solar panels to circulate.
That said, everything from the root is used and the cutting naturally produces the different sizes of chips and dust. All in all this makes the Smokey Olive Wood brand certainly one of the most sustainable and environmentally friendly producers of wood chips for smoking on the market today.
A Different Way Brings Different Flavours
The success of the original Smokey Olive Wood has enhanced demand for other exotic types of wood chips for smoking such as Holm Oak, Orange wood, Lemon wood, Almond wood and the Spanish Walnut.
Olive Wood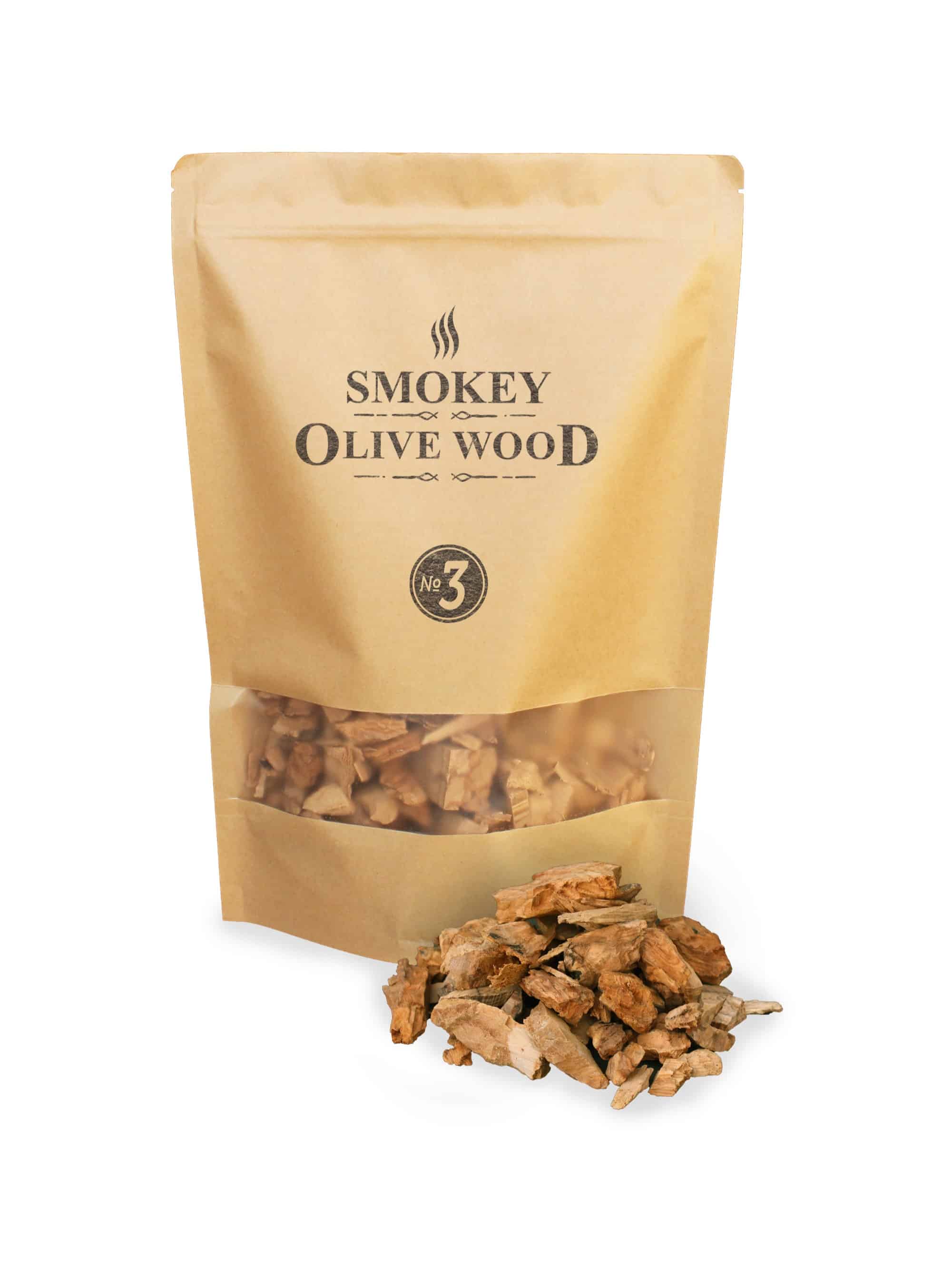 Chiringuitos restaurants in Málaga make beach barbecues using olive wood in sand filled boats. The classic dish to cook is "espetos de sardinas" (grilled sardines) and the "Espetero" is the chef in charge.
In addition to this dish, an array of fish and seafood is also prepared on the sand-filled boats. The delicious aroma of fish and seafood gently cooking over smoking olive wood spreads along the promenade during meal times. The light smoky scent of olive wood not only suits fish, but is also very suitable for chicken, pork or vegetables and even fruit!
Holm Oak
Iberian pigs that are used to make the world famous Jamón Ibérico feed on the acorns of the Holm Oak tree. Dozens of trees are needed for one pig and whilst we're not condoning intensive farming practices there's no denying the quality of Holm Oak wood.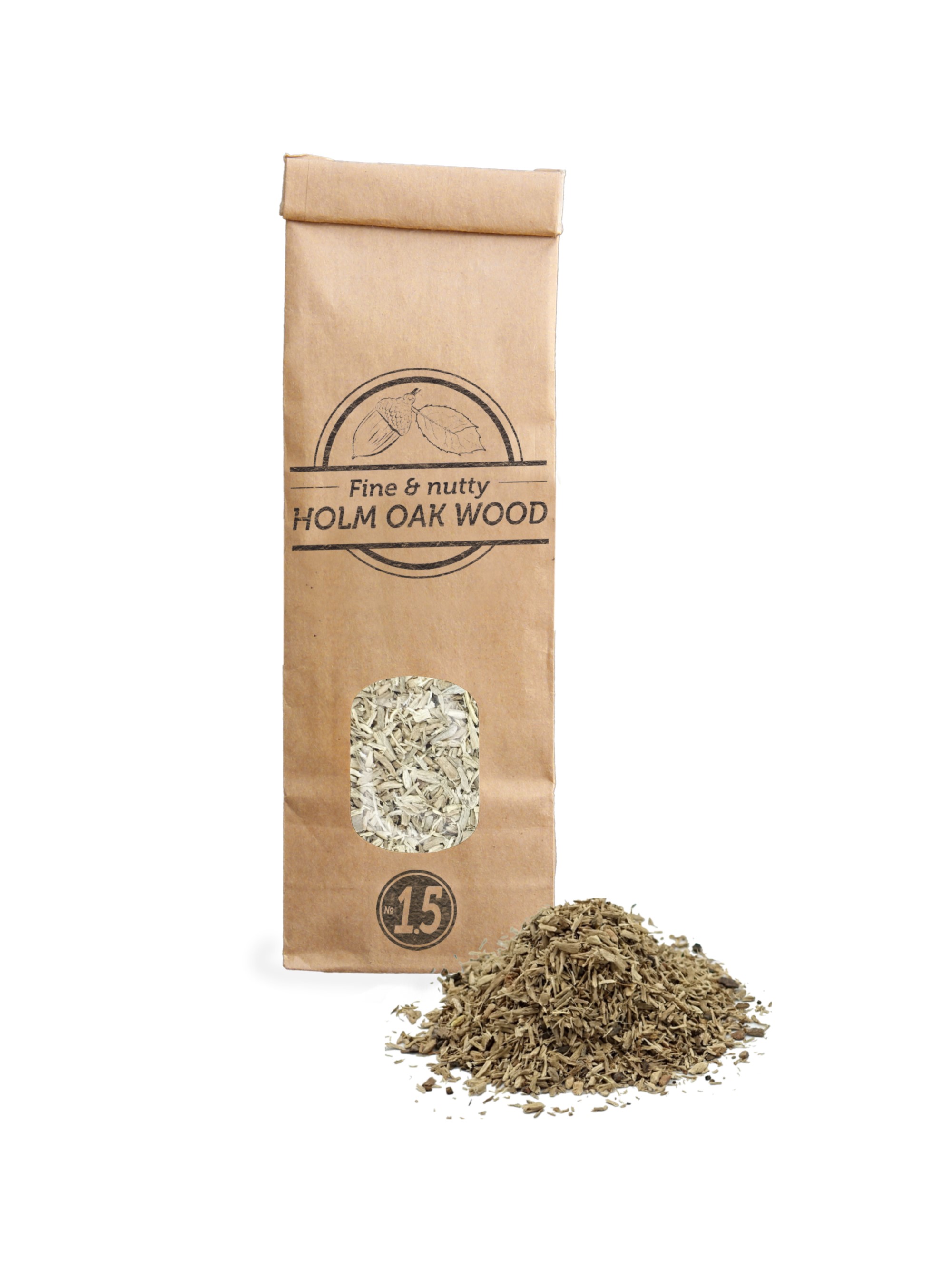 Top restaurants choose Holm Oak because it's extremely hard and burns for a long time. The smoke of the wood gives a delicious rustic taste to grilled or smoked food. This wood is used to smoke stronger flavoured foods such as venison, beef and pork.
Orange & Lemon Wood
The regions around Valencia are known beyond the borders of Spain for citrus fruits and Paella. This dish dates back to the middle of the 19th century and is traditionally prepared on orange wood or lemon wood. The smoke from these woods gives the dish its traditional taste.
In the plantations the trees are regularly pruned to stimulate growth and this is where Smokey Olive Wood comes to the rescue. The pruning generates waste and this is raw material for their wood chips.
Citrus wood is a light wood, not typically used as firewood and so used to be destroyed. Because it is a light type of wood, it lends itself to soaking the pieces in water or light beer. This means that the wood smokes longer and also gives a delicious taste to your food. The smoke from these citrus woods gives a light, fruity smokey taste to the food and is best paired with fish, pork and chicken.
Almond Wood
Sadly, almond trees are being ignored in Spain and replaced by other plants because the harvesting is labour intensive and this favours the lower labour cost countries of North Africa. The quality of the almond tree wood however is high. It is a dense wood species that has a long burning time. The smell of the smoke from this wood is powerful and fits perfectly with beef, game or fish such as mackerel.
Walnut
13,565 hectares of land in Spain is dedicated to the farming of Walnuts with Andalusia being one of the largest so it's no surprise that Smokey Olive Wood (based in Málaga) have chosen to work with the Walnut farmers to produce wood chips for smoking food. Walnut wood gives smoked food a sweet, tangy flavour.

Ready To Smoke
Smokey Olive Wood produce different sizes of packaging and size graded chunks, dust and wood chips for smoking no matter what your need or experience.
Beginners
For the beginner we offer small packages or our EZ smokers. These EZ smokers are small aluminium trays containing 400ml wood chips; very easy to use.

Fill the aluminium foil tray with fresh water and let it rest for 30 minutes
Pour off the remaining liquid
Cover the EZ-Smoker with a sheet of aluminum foil
With a sharp knife, make holes in the foil cover to allow the smoke to escape
Place the EZ-Smoker on your hot BBQ
When it starts smoking, place your food on the BBQ and close the lid
The EZ-Smoker will produce smoke for approx. 25 minutes, which is sufficient for most grill cookouts. For exceptionally large pieces of meat, you may want to repeat the smoking procedure after a break of 30 minutes.
In addition we have small bags of wood chips for smoking with a capacity of 300-500ml which are ideal for experimenting with different flavours. Thanks to the closing strip, these packs can be resealed and stored for future use.
BBQ Enthusiasts
Large bags, 1500ml-1700ml, are the perfect size for passionate BBQers. The amount can be used for several smoke sessions and the pack can be resealed after use.
Professionals
Smokey Olive Wood also offers 5kg catering packaging. This saves a lot of waste and is easier for the professional to use.
Our Size Grading System
To make it easier for you to understand what size of wood chip you need for the type of smoking that you want to do, we have developed a simple grading system:
Number 1
Our finest dust, grain size 0-1cm suitable for amateur smoke generating kits such as the Pro Q cold smoke generator.
Number 1.5

A slightly coarser grain for the "smoking gun" and professional automatic smoke generating machines.
Electric / gas powered smokers, including those with transport snake. These smokers have a sieve, but dust can go through it and taint the food. For this reason it's very important to use our size Nº1.5, because the dust is removed.
Fill the sieve of your smoke generator up to ¾ full.
Turn on your smoke generator.
Fire up the dust with a lighter.
Check in the instructions of your smoke generator how many seconds you can create smoke so you don't damage the smoke generator.
Clean the filter of your smoke generator after each use!
Number 3
Grain size 2-3cm wood chips for smoking with general purpose BBQs and smokers.
Just sprinkle directly onto your coals.

Number 5
For big BBQ grills and smokers. Chunk size 5cm - 15cm. These chunks burn very evenly and slowly, and deliver their smoke aroma over an extended period of time to the smoking goods. Best used in open fires such as the Ozpig or directly on the cooking grates of a kamado ceramic grill.

Where To Buy Smokey Olive Wood
Use the dealer locator page on the Smokey Olive Wood website to find a stockist near you.
More Information & Bulk Ordering

Barbecue enthusiasts are becoming increasingly aware of the wood they use and the desire for European fruit and nut flavours continues to grow. We are actively seeking more outlets for Smokey Olive Wood so please get in touch if you think we can grow business together. Use the contact form below to enquire about bulk purchases for UK and Ireland.