Outdoor Kitchen BBQ Grills

Bespoke outdoor kitchen BBQ grills UK made to your specification from professional standard stainless steel. Every design is different and we work with the best outdoor kitchen designers to deliver your requirements.

Choose our hand made stainless steel charcoal grill -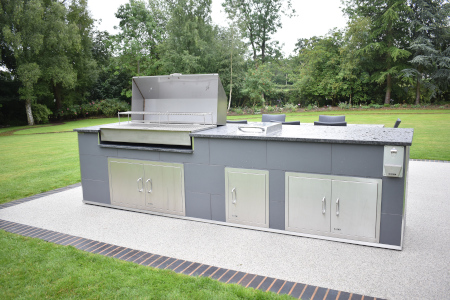 Or a Monolith ceramic grill -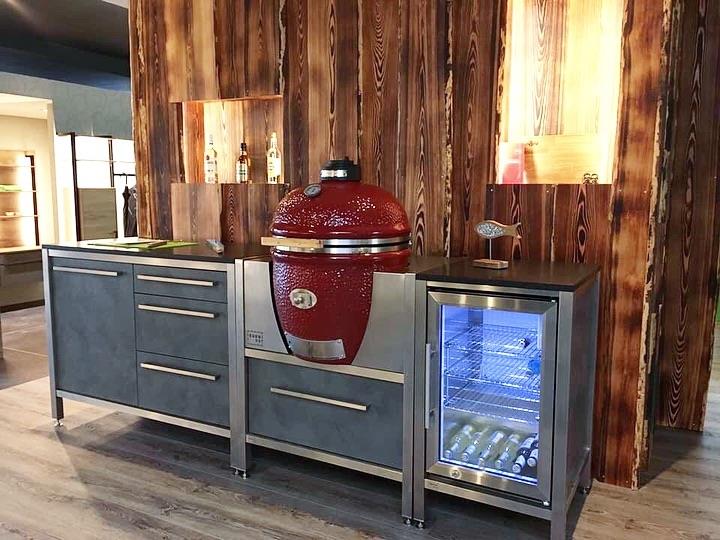 On a British Summers day there's no better place to be than out in the garden and the outdoor lifestyle here in the UK is becoming increasingly popular. Of course you can't always rely on that weather but with the creative use of pergolas and shelters then the possibilities for year round outdoor cooking (especially with a Monolith ceramic grill) are endless.
Our custom build outdoor kitchen BBQ grills here in the UK from 2.5mm thick type 304 professional standard stainless steel, we supply Monolith ceramic grills and we work with the best outdoor kitchen designers in the country.
Small or large, an outdoor kitchen barbecue area can range from a small free standing BBQ island to a full blown permanent kitchen with built in electrical appliances, sink, cupboards and drawers. The possibilities are endless, the choice is yours.

Designing Your Outdoor Kitchen BBQ Area

The first stage is to complete the rapid response form at the bottom of this page. From there we set up a free phone consulation to capture your vision and develop an outline plan.
Stage two is to agree on the range of appliances and the style of BBQ grill(s) that you want to feature in your outdoor kitchen.
At the time of ordering your grills and appliances we then start the detailed design stage and visit your site.
Following the purchase of your grills and appliances then the construction of your outdoor kitchen BBQ area can begin.
Click here to complete the rapid response form and we'll be back to you withing 48 hours.

We do things in a different way

We are passionate about the products that we build. Our three core values are:-
Quality
Longevity
Sustainability
Every outdoor kitchen BBQ area is UK custom made in partnership with the best designers.
Our unique offering:
From initial consulation, design and build right through to completion is all managed in house by a team of experienced craftsmen.
Every outdoor kitchen constructed is designed to withstand the rigours of the UK climate and will look good, year in, year out.
We strive to ensure that the raw materials we work with and those of our suppliers are consistent with our values and the sustainability of the planet.