Smoker Grill Recipes, Tips And Advice
We have smoker grill recipes tips and advice in abundance to help you get the most out of your Ozpig, Big Pig, Monolith ceramic barbecue or Que Fresco stainless steel grill.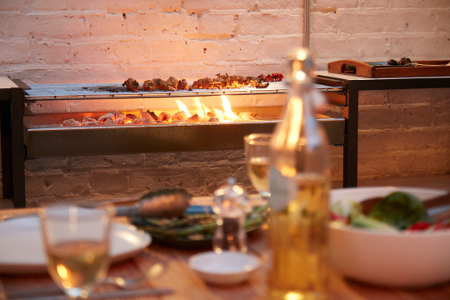 We don't just make and sell any old barbecue grill, all our grills are used by us on a regular basis and we love to play around and find new recipes; and because we cook all the time on the grills that we distribute there's always someone here at the end of the phone to offer tips and advice to help you along your way.
That said, when it comes to the actual cooking we usually end up stealing the best smoker grill recipes from one of two secure websites...
www.barbecue-smoker-recipes.com offers a unique insight into European style open fire cooking. In fact we like this site so much that we also advertise our products here. This website has been going for over ten years and still surprises us with some great new ideas.
www.amazingribs.com is where we turn for classic American barbecue cooking. If you want to learn the fine art of smoking ribs, pulled pork and brisket then this site is extremely informative. That said we're not fans of the hedonistic undertones in the narrative or the "pop up" ads... you might want to adjust your browser settings before taking a peek.
Our part time development chef Hannah has (with our help) also started her own smoker grill recipe website to satisfy a growing niche of outdoor cooking fans. If you love living outside and prefer not to eat meat then try www.vegan-bbq-recipes.com for size. Certainly it's a fresh approach to barbecue and (conveniently) demonstrates how a Monolith ceramic grill is perfect for meat free cookery.
Online communities are building all the time and we are fans of the Country Wood Smoke Facebook forum. Check it out if you want immediate human interaction, the group is there to help and most of the active members are really happy to give you the benefit of their experience. There are however a number of trolls with a vested interest in selling you equipment so be wary when asking for buying advice... just ask us instead (wink wink)!

Smoker Grill Recipes And More
Please check back to this page over the coming months because we want to share more with you about the smokers and grills that we manufacture and distribute.
Of course the road to hell is paved with good intentions but we hope that during the quieter times of the year we can shoot some videos to help you get the most out of you barbecue. The only problem we have is that those quieter times are becoming fewer and further between - especially as all our brands are designed to be used all year round and deliver fantastic results whatever the weather.