Monolith Ceramic Grills UK & Ireland
For outdoor cooking enthusiasts who want versatility of cooking methods with consistently succulent and juicy results. Monolith Ceramic Grills offer endless varieties of cooking style coupled with unrivalled textures and flavours of barbecue food.

Monolith Ceramic Grills originate from Germany and it's immediately clear how Monolith have taken the classic German approach to constructing a well thought through design using only the best quality materials. The No.1 ceramic grill in mainland Europe, Monolith is now available in the UK and Ireland.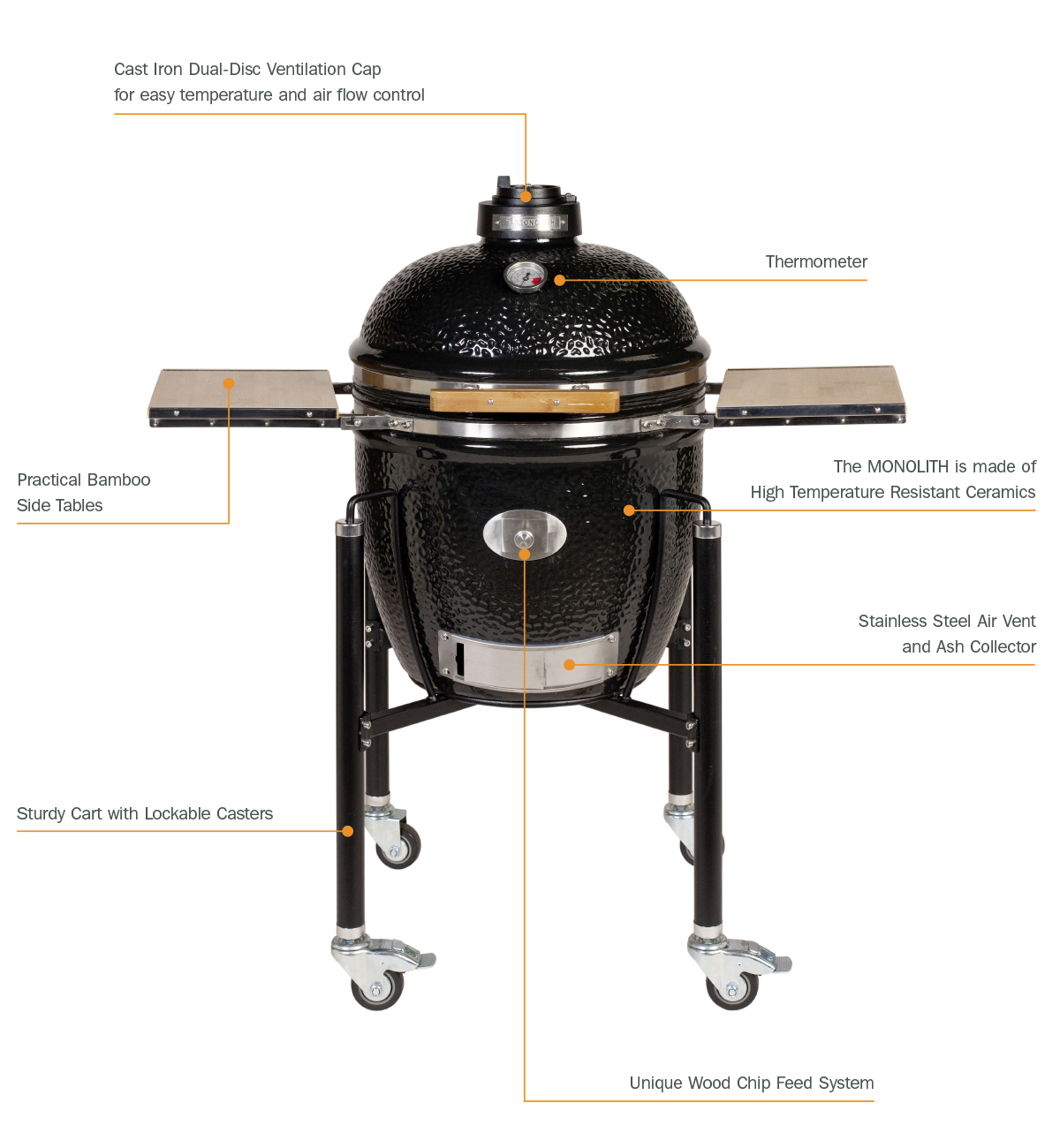 The Monolith ceramic grill is probably the most versatile piece of outdoor cooking equipment that you can imagine. You can grill, smoke, baking, sear, and roast. With the addition of the pizza stone, plancha and wok stand your options are endless. Enjoy variety, enjoy surprising your guests and enjoy indulging your palate. Your garden will become a realm of endless choices.
The German Monolith design delivers aesthetics with functionality. An object of art, pleasing to both the eye and the palate, sealed with quality and longevity. You may never buy another barbecue again!

Put simply the Monolith ceramic grill is unique, extraordinary and extravagant, it will satisfy your hunger a passion for outdoor cooking.

What Makes The Monolith Ceramic Grill Special?
Versatility
Barbecue, low temperature cooking, baking, smoking and searing – whichever way you prepare your dishes, the MONOLITH grill will always enable you to achieve perfect results. Whether you want high temperatures for the perfect steak or low temperatures for smoking – the MONOLITH delivers it all.

Efficiency
Due to its unique thermal properties the MONOLITH grill needs very little energy to generate and maintain the desired temperature so with just 2½-3 kg of charcoal the MONOLITH can cook low and slow for up to 24 hours. Furthermore very little oxygen is required to maintain temperature and air movement is minimal so meats stay moist and juicy.

Effective
Compared to other barbecues the MONOLITH is extremely fuel efficient delivering high temperatures with minimal waste and makes searing a couple of steaks a breeze. Simply open the top and bottom vents and air races in to quickly heat the charcoal. When done just close the vents to stop the air flow, the grill and fire area are now sealed and within a short time the charcoal embers die down ready to be re-used next time.

Unique Wood Chip Feeder
The MONOLITH system for adding wood chips gives the meat that typical smoky BBQ taste without having to disturb the meat by raising the lid. Flavoured wood chips are placed in a chute and are pushed through the specially designed aperture directly in to the fire. 

Quality Construction
The MONOLITH is made of extremely heat-resistant ceramics and highgrade stainless steel. The robustly designed cart is made of powdercoated steel, has two practical solid bamboo side tables and locking casters for safety.

Safety
The outside surface temperature of the MONOLITH is much lower than a regular steel grill – there is minimal danger of burn injuries.

Cooking Prowess
The exceptional thermal performance of the solid ceramic and clever air regulation means you can control the temperature in the MONOLITH like no other type of grill. In addition charcoal consumption is around 25-50 % less than a regular grill. Light the charcoal and you are ready to cook in just 15 minutes with far less fuel burnt during the preheating phase.

Easy Clean
The outstanding thermal performance of the ceramic coupled with the use of high-quality stainless steel make the MONOLITH very low-maintenance and it can even be used in winter. Simply clean by setting at 200°C for 15-20 minutes.

Warranty
The comprehensive limited lifetime warranty covers the ceramic parts and the warranty period on the metal parts is 5 years. Click here for full details.
---
The Latest Innovations

Say hello to the Monolith Pro Series 2.0

Monolith Pro Series 2.0

The Monolith Pro Series 2.0 sets the industry standard in ceramic cooking innovation with 3 models from which to choose - the Junior, Classic and Le Chef.
The immediately visible improvements include the new SMART GRID SYSTEM which adds even more versatility to cooking and the Pro Series Firebox.

Key features include:

SMART GRID SYSTEM (Classic & LeChef) – includes two half moon cooking grates, two half moon interlocking drip trays and two half-moon deflector stones which can be positioned in any one of 4 height settings all built into a stainless steel frame that can be easily lifted in and out of the Monolith in one simple movement.
Pro Series Firebox (Classic & LeChef) – Featuring a set of five segmented ceramic pieces seated in a stainless-steel frame funneling down to a concaved ash collector and profiled stainless-steel shovel.
| | |
| --- | --- |
| Monolith Smart Grid System | Monolith Pro Series Firebox & Ash Collector |
State of the art fibre mesh gasket stapled to the lid and married to a stainless steel base plate - Maintenance is practically the thing of the past.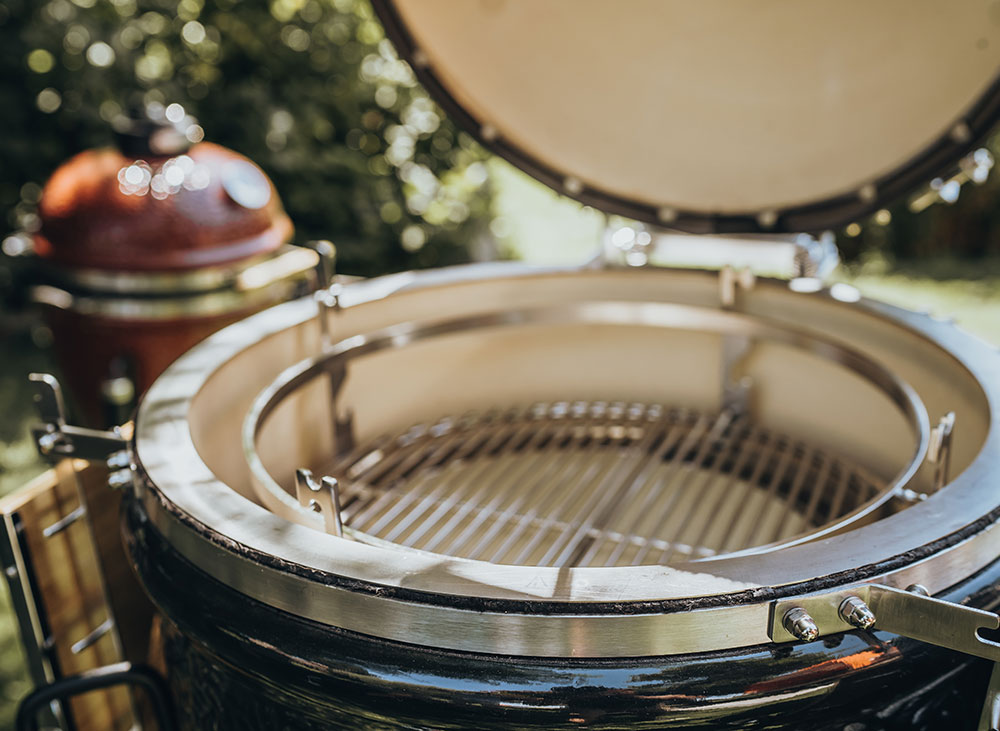 BBQ Guru port - You can now attach a pit controller to every Monolith without having to fiddle with time consuming adapters.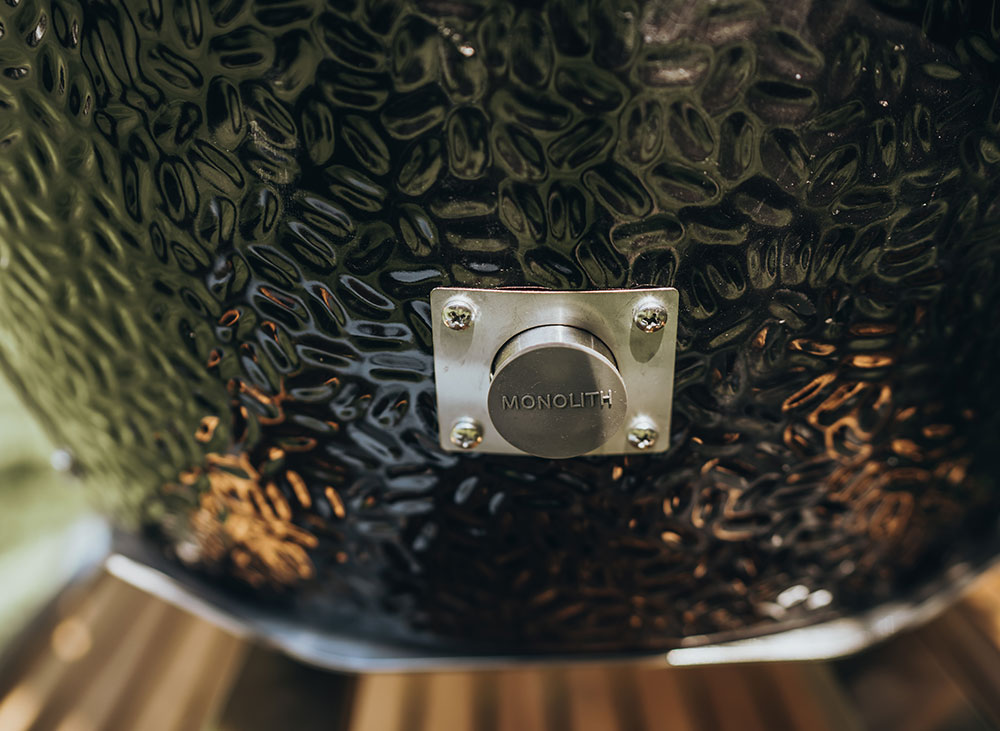 New design vertical exhaust cap eliminates tarry condensation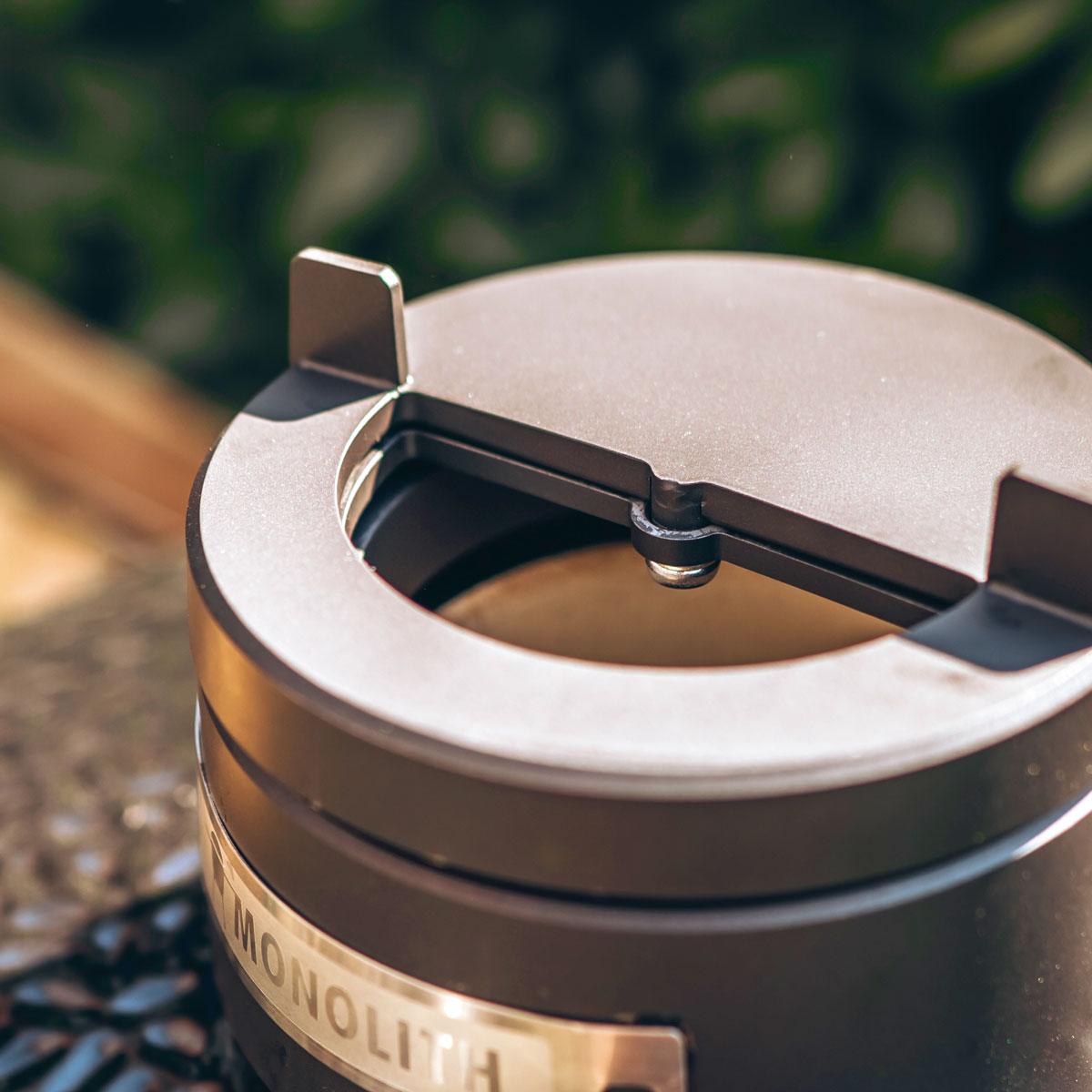 New Easy Build Cart – Continues the same low centre of gravity design but no more bolts
Improved Smoke Chip Feeder – Following customer suggestion, the revised Monolith design is tidier and less fiddly to use.
Available in both Red & Black.

In addition, the Junior also features the same removable hinge found on the Monolith Icon so fire plate cooking is an option with the Junior too.
Monolith Icon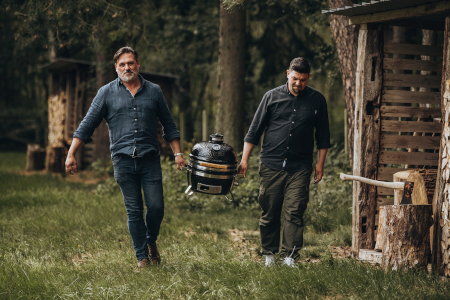 OK so the Icon is now in its second year. The Icon blazed the trail for the new Junior Pro Series 2.0, we were going to write here how revolutionary this little unit is...but then someone did it for us. Check out this independent Monolith Icon review.
New! Monolith Classic Original (Basic Grill)

Monolith Ceramic Grills have recently introduced what essentially is the original Classic rebranded as a basic model. The Monolith Classic Original (BASIC) seeks to provide an entry level to those who understand the benefits of ceramic kamado cooking but until now have found the quality products just out of financial reach.
Monolith Classic Basic RRP £849
The new Classic Original model is the exact same quality construction as the original Monolith Classic allowing you enjoy ceramic grill cooking now and add to your Monolith as your budget allows. You get:
Monolith high quality ceramic technology (and associated warranty)

A family sized grill
The all essential heat deflector stones with a stainless-steel grill grate

The robust steel cart with bamboo side shelves
Start now with the Monolith Classic Original basic foundation and then custom build your grill to best suit your needs as and when your finances allow.
For those that recognise the benefits of lifetime quality but still need to keep a tight hold on the purse strings...the new Monolith Classic Original basic version is for you.
How To Assemble Monolith Ceramic Grills
This video was shot by Martin, a competition barbecue chef whom we sponsor. His competition team name is "Tea & Brisket". We sent him a new Pro Series 1.0 to cook on and he kindly shot this video whilst doing a first time assembly. You can see how easy a new Monolith is to unpack even without reading the instructions although Martin could have made it even easier by:
Unpacking all the internal items before lifting the Monolith - not only does this make it a lighter lift, it also means that you can assemble everything in the correct order including...
Placing the stainless steel caps on the legs before screwing them into the cradle
Putting the cast iron grill grate in the firebox before the charcoal basket
Other than that...great job Martin, many thanks!
Warranty Details
The warranty is based on normal and reasonable residential use.  The MONOLITH GRILL carries a warranty for materials and workmanship on all grills and components, manufactured after 01.01.2019, as explained below:

1. The MONOLITH carries a limited lifetime warranty on all ceramic components and a 5 year warranty on all metal components. The warranty is non-transferable, hence valid for as long as the original purchaser owns the MONOLITH. Warranty coverage begins upon purchase from an authorized retailer. The original purchase receipt must accompany all warranty claims.

2. Within the warranty all original MONOLITH components that are found to have defects in materials or workmanship, will be replaced or repaired.  Fulfilment of warranty acts does neither cause a prolongation of the warranty period, nor does it initiate a new warranty period. Ownership of replaced parts reverts to MONOLITH.

3. The warranty is only valid for the original purchaser as follows: Warranty coverage begins upon purchase from an authorized retailer only. The warranty is non-transferable and cannot be prolonged through any of our retailers or partners.
The assembly and installation of the grill must be in accordance with the user manual, and in accordance with all regional and national building and fire safety codes.
Fine cracks in the exterior glaze, so-called Craquelure, can occur during the firing process caused by different expansion coefficients of the glaze and ceramic material. This is inevitable and even desirable, making the ceramic more robust to temperature changes. Craquelure is not a quality defect. Should however, parts of the ceramic break or chip, please contact our customer service.
Due to the high temperature fluctuations within the grill the fire box and the fire ring could crack. The expansion joints in these components usually prevent such cracking. Should any fine cracks appear, these are merely an optical defect and generally do not expand any further. Further use of these components is safe, the functionality of the grill is not affected. Should however, these components break, please contact our customer service.
Stainless steel components, such as grill grids, are subject to discolouration through exposure to high temperatures.  Furthermore, under certain conditions, the stainless steel components may rust. Warranty coverage does not extend to any dents, scratches, chips, fading, oxidation, rust or corrosion resulting in the improper use of chemical cleaners or heat exposure, unless resulting in a loss of structural or functional integrity.
The warranty is based on normal and reasonable use and maintenance of the MONOLITH. The warranty does not apply to any damage or breakage caused by improper use. Any unauthorized modifications or alterations to the MONOLITH will void the warranty.

4. Warranty claims outside of Germany must be made through an authorized retailer or distributor within the original country of purchase. For MONOLITH grills, which have been purchased from an authorized dealer in one EU country and taken to another EU country, services are provided in context of the terms of warranty valid for the latter.

5. Warranty does not apply to any losses or accidental damage or breakage from dropping, or for any damage incurred through; improper assembly, support or use; improper storage, transportation; lack of maintenance or through negligence.  Warranty coverage does not extend to storm damage such as hail storms, floods or natural disasters, fading through the exposure to chemicals or minor cosmetic cracks of the exterior glaze that do not affect the performance of the MONOLITH.

6. All further claims, including, in particular, claims for damages, are herewith excluded
Osnabrück, January 2019

Should you have any questions, warranty claims, ideas, praise or critique please contact: MONOLITH GRILL GmbH Frida-Schröer-Str. 56 · D-49076 Osnabrück phone +49 541 2019 640 · info@monolith-grill.de

---
Finding A Monolith Dealer

For the most up to date information click on this link to the dealers directory