Stainless Steel Brick BBQ Grill Sets
We fabricate professional quality stainless steel brick BBQ grill sets. All our grill kits are hand made to order, choose from one of our standard sizes or have something custom built to your exact requirements.
Fabricated here in the UK from the highest grade type 304 stainless steel our brick BBQ grill sets are designed to withstand the rigours of the British climate. They will not rust and will look good, year on year.
Our stainless steel built in BBQ design is simple and effective using a system of stainless steel pins drilled into the brickwork upon which the ash pan and grill grate rests. This means that you can set the height of you cooking grate (and optional warming rack) at the height that best suits you and adjust according to the intensity of the fire.
Other systems rely on protruding bricks which offer inflexible graduation in height so your cooking grate is either to close of too far away from your coals for efficient cooking. Our system is simple, clean and effective.
Our standard stainless steel built in BBQ kit consists of the following:
Ash pan fabricated from 1.5mm type 304 stainless steel
Stainless steel mesh insert to ash pan to aerate the charcoal
Type 304 stainless steel grill grate with 3mm bar and 6mm perimeter brace bar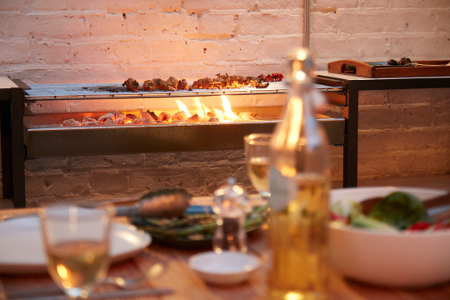 Frequently requested options include:
6mm bar to the cooking grate
Additional half depth warming rack
2.5mm thick ash pan that will withstand the burning of logs
Of course all of the above can be done to the exact dimensions you need, just contact us and we'll price the job up for you.

Prices:
The majority of our stainless steel built in BBQ's are non standard so it's difficult to provide a price list but the standard sizes below will give you a good indication.
Small (610mm x 400mm) -      £269.00

Medium (915mm x 400mm)-    £399.00

Large (1220mm x 400mm) -    £499.00

Extra Large (1220 x 600mm) - £799.00
Just complete the rapid response form with the details of your project and we'll be happy to make a quotation for you.
Building The Blockwork For Your Brick BBQ Grill Set 
Many of our customers purchase a brick bbq grill set from us because they find the masonry construction already in their garden but the inserts have rusted and rotted away. If this is what you have then our make to order service will guarantee that you can have a brand new barbecue without having to lay a single brick.
Then again you may be building from scratch. If this is the case then you can purchase one of our standard sized brick bbq grill sets safe in the knowledge that if a job is worth doing then you've got the right grill set to do it well.

Our guide below isn't exhaustive but it will give you a starting point for what you need to do to build something that's going to last.
1. Check That The Ground Is Level

A poor foundation can cause ground movement which could make your construction unstable in the long term.
To make a level foundation dig down about 150mm (6 inches). Pour in a layer of gravel and then a concrete mix cement.
2. Preparation of Bricks

The day before you plan to use the bricks, hose them down with water. Bricks act like sponges, you want yours to be full of water so that they don't leech moisture out of the mortar and cause the mortar to crack.
3. Plan The Layout

Lay out your bricks on the concrete to plan the first layer. When you're happy with the shape, draw around it so that you follow the plan when you lay the bricks for real,
4. Lay The First Course

Lay out a generous layer of mortar along the drawn outline of where the bricks will sit. Lay the first layer of bricks applying mortar one end of the next brick before butting it up to the previous brick.
Check that the first course is level, plumb and square, use your trowel handle to gently tap and reposition bricks as necessary.
5. Lay The Next Courses

Start building up at the corners and then filling in the walls. Place a metal tie into the mortar to join the side walls to the rear wall and remember to stagger the joints (the end bricks on your next layer will have to be cut in half).
Continue to check each course for level, plumb and square as before and scrape away any excess mortar.
Note: You will see some BBQ grills built this way that have bricks turned inwards to provide the support for the ash pan and height adjustment for the cooking grate. Remember that you don't need to bother doing this because we supply stainless steel pins to deliver the same result.
6. Finishing Off

Continue building up until you reach your preferred height. Top off the final layer with solid bricks (if you've used holed bricks further down) and lay them frog side down for a smooth level finish.
Once complete, give your structure at least a week to cure.
7. Install Your Stainless Steel Brick BBQ Grill Set

Plan what height is comfortable to cook at and set that as the height for your cooking grates. In a standard kitchen this is set at 900mm (35½ inches) from the floor so use that as a guide. Drill holes to insert two stainless steel pins on each side to act as supports for your cooking grate.
Now you can set the height of the base pan below. We normally recommend that the base pan be set 150mm (6inches) below the level of the normal cooking grate.
You then have a further 4 pins to set another height level. We normally set the second level at 50mm (2 inches) above the ash pan to be used either when the coals are on their way out after a long cookout or in order to get an intense heat for grilling steaks.